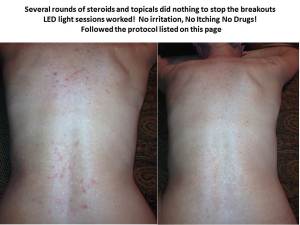 Back Acne – Bacne
Book your Back Facial or Back Facial with LED Here today!
Back Facial – 60 minutes. Includes a double custom cleanse, chemical peel that targets acne bacteria or age spots, extractions, masque, and hydrating massage.
Back Facial with LED light treatment  60 minutes  – Same as 60 Back Facial with LED, hydration and a DIY at home Back Masque.
Back Facial, LED with masque and hydrating massage 75 minutes.  We do it all so enjoy and relax.

Bring a clean shirt to wear home!  
Following our treatment protocols ensures greater success against back acne and smooth soft skin.  
Pimples, Cysts, Whiteheads, and Blackheads.  Painful back acne affects everyone, young and old. It starts out with an itch, then another itch and before you know it your entire back is broken out. What happened?
Many things cause Back Acne, mainly hormones.  Puberty, clogged pores, and most recently people adding additional hormones to their body, known as hormone replacement therapy. At the LED Skin Care Center we have seen a rise in Back and Chest Acne among women in their 40's who have started hormone replacement therapies.  They love the way they feel but are very frustrated with the side effects from the hormones – acne.
What can you do about it? 
At the LED Skin Care Center we recommend:
1.  Washing with Clearing Skin Wash – morning and night
*It does not dry out the skin like Retina A and Benzoyl Peroxide
*Helps to loosen dead skin cells, clean and disinfect the pores
2.  Use Over Night Clearing Gel
*Apply at night to clean dry skin
*Calms inflammation and prevents future breakouts
*Reduces excess sebum and clears impacted pores without irritation or itching
3.  Masque 1 to 2'xs each week with Gentle Cream Exfoliant
*Leave on 10 minutes then shower off
*It's a 5 in 1 product that will leave your skin silky smooth without irritating
*An LED Skin Care Favorite!
4.  Hydrate and Moisturize with Oil Control Lotion
*Over dry skin, with oily skin, ends up producing more oil leading to more breakouts
*Hydrate and Moisturize your back after each washing – a little goes a long way
5.  LED for your back – 2'xs a week
*A series of 8 LED sessions
*LED kills bacteria, purges cellular debris, heals breakouts quickly
6.  Once a month Backcial, a Back Facial for your back
*Deep pore cleansing, exfoliation and extractions if needed
*A cooling, refining and deep-cleaning masque to purify and absorb excess oil[/vc_column_text][/vc_column][/vc_row]
LED Skin Care Plano "Members" get 10% off their Dermalogica products.
At the LED  Skin Care Plano we take a non-ablative, non-toxic, no downtime approach towards skin care and get great results. 
Oral Medications can have toxic, and serious side effects.  Always read the labels and understand the side effects of any and all medications.  This is what  Accutane can do:
Remember that your doctor has prescribed this medication because he or she has judged that the benefit to you is greater than the risk of side effects. Many people using this medication do not have serious side effects.
Tell your doctor immediately if you have any of these unlikely but serious side effects: mental/mood changes (e.g.,depression, aggressive or violent behavior, and in rare cases, thoughts of suicide), tingling feeling in the skin, quick/severesunburn (sun sensitivity), back/joint/muscle pain, signs of infection (e.g., fever, persistent sore throat), painful swallowing, peeling skin on palms/soles.
Isotretinoin may infrequently cause disease of the pancreas (pancreatitis) that may rarely be fatal. Stop taking this medication and tell your doctor immediately if you develop: severe stomach pain, severe or persistent nausea/vomiting.
Stop taking this medication and tell your doctor immediately if you develop these unlikely but very serious side effects: severeheadache, vision changes, ringing in the ears, hearing loss, chest pain, yellowing eyes/skin, dark urine, severe diarrhea,rectal bleeding.
A very serious allergic reaction to this drug is rare. However, seek immediate medical attention if you notice any symptoms of a serious allergic reaction, including: rash, itching/swelling (especially of the face/tongue/throat), severe dizziness, trouble breathing.
This is not a complete list of possible side effects. If you notice other effects not listed above, contact your doctor or pharmacist.
In the US – Call your doctor for medical advice about side effects. You may report side effects to FDA at 1-800-FDA-1088.
In Canada – Call your doctor for medical advice about side effects. You may report side effects to Health Canada at 1-866-234-2345.