Home Care LED Skin Care Spa
For a deep pore cleanse at the end of the day for a glowing complexion tomorrow
PreCleanse – Cleanser – Exfoliant – Treatment – Toner – Moisturizer
Free Home Care Consultations – book yours today here! under consultations
***To, ensure you get Dermalogica Products Vs knock-offs, order yours here.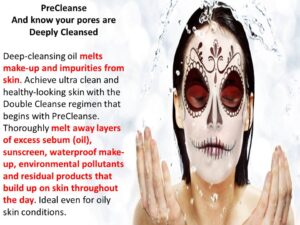 STEP 1: Remove Makeup from Eyes and Face using PreCleanse.   This Deep-cleansing oil melts make-up and impurities from the skin.  Thoroughly deep cleans excess oil, sunscreen, waterproof make-up, pollution, and residual products that build upon the skin.
No knock offs here, order authentic Dermalogica skin care HERE!
STEP 2: Cleanser
Oily  – Active Clay Cleanser, Dermal Clay Cleanser
Acne – Clearing Skin Wash
Aging – dry, hyperpigmentation – Skin Resurfacer
Aging, Scared, Skin Texturing – Daily Glycolic Cleanser
All Skin Types – Special Cleansing Gel
STEP 3: Exfoliate
Oily – Daily Superfoliant
Acne – Daily Microfoliant or Daily Superfoliant
Aging – dry, hyperpigmentation – Multivitamin Thermofoliant
Aging – scared, skin Texturing  – Multivitamin Thermofoliant
STEP 4: Treatment/Serum
Acne/oily – Breakout Clearing Booster/Post-Breakout Fix
Acne/dry  – AGE Bright Clearing Serum, Spot fader, Clearing Oil
Aging/dry, age spots –BioLumin C Serum, PowerBright dark spot
Aging/scared, pigmented – Multivitamin repair serum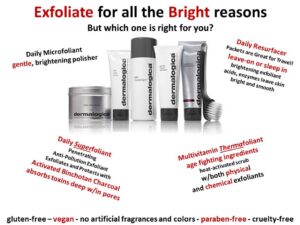 STEP 5:  Toner
Acne – Micro-Pore Mist
Aging – Antioxidant Hydramist
Dry, Sensitive – Ultra Calming Mist
All skin types – Multi-Active Toner
Step 6:  Moisturizer
Acne – Cooling Aqua Jelly
Oily – Active Moist
Dry – Skim Smoothing Cream or Intensive Moisturizer
Aging – Super Rich